Donate $30 to Help Feed Families Across Southeast Virginia & Northeast North Carolina
Rose & Womble Realty Company began this tradition of distributing Thanksgiving baskets to families in need over 25 years ago. This project started with 3 baskets and has grown each year  to over 3,500 last year!  This year we will feed over 3,500 families again! Each Basket contains a turkey, stuffing, apples, potatoes, canned vegetables, gravy and rolls. We work closely with the local social services offices, Friends of the Elderly, Norfolk Redevelopment and Housing and the military to find families in need of a Thanksgiving meal.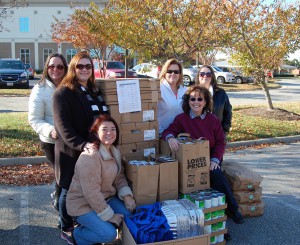 "Wow, what a surprise it was to be given a food basket last Thanksgiving. I have a wife and child and we were not expecting it. The food was very satisfying. We often struggle financially and the food came at a great time. We are fortunate to have people in the community who support the military."
– LCpl Blackwell
"Rose & Womble Realty should be commended for what they do. Their Thanksgiving food basket was such a big help to my wife and children who were very surprised and thankful for getting all of the tasty food. There was enough food for my entire family and we didn't have to purchase anything else for our Thanksgiving meal. Keep up the good work and thanks for all you do."
– Cpl Blumenstock
"I was able to go with my daughter and deliver food to our ten people. What
a humbling experience. Never in my life have I encountered so many truly grateful people. Some came to the door on walkers, some on canes some just struggling to get to the door. But every single person was so grateful for the gesture. Every single person wished us well, thanked us and wished us a happy thanksgiving."
– Volunteer
"On behalf of the Chesapeake Redevelopment and Housing Authority and the residents within our community, I would like to express my appreciation to you and your staff for your generous donations of holiday food baskets. With the generous support of people and organizations like you, we were able to help many families and individuals meet their essential food goals. Thank you once again, and we look forward to your continued support."
Brenda G. Willis
Executive Director CRHA
You may choose to donate money or purchase a whole meal for $30.00.
For $30 you will be helping a family enjoy enough food to feed six people: